Nature Yoga Flow (In Person & Online)
Jul 16 @ 02:00PM - 03:15PM
Donation
Recurring Event
(See all)
Recurring weekly on Saturday
From: 02:00 PM to 03:15 PM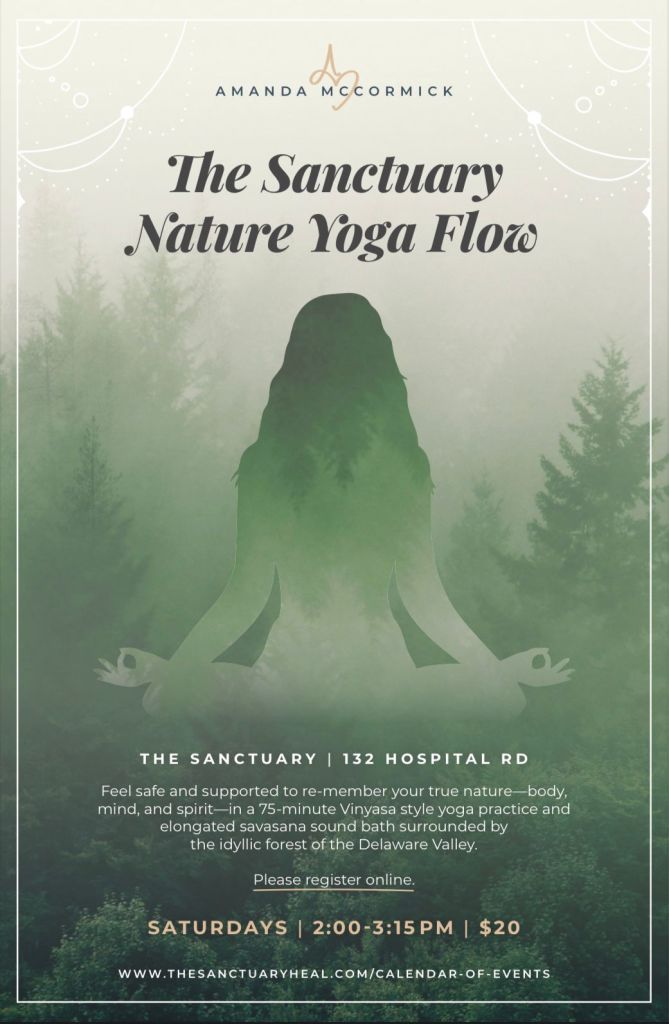 Feel safe and supported to re-member your true nature—body, mind, and spirit—in a 75-minute Vinyasa-style yoga practice surrounded by the idyllic forest of the Delaware Valley.
We'll slow down and breathe together, flow and be together.
The class will begin with a grounding meditation and calming pranayama, move into a vinyasa-style practice, and close with an elongated savasana accompanied by the songs of the forest and a live painted soundscape of singing bowls, bamboo Koshi chimes, and a steel tongue drum.
Leave in time to take in the sunset, breathing deeper—feeling refreshed & relaxed, grounded & connected.
When:
Saturdays | 2:00 - 3.15 pm EST
Where:
The Sanctuary | Callicoon AND virtual
Exchange:
$20
Acceptable payment methods: cash, check, Venmo, Zelle, PayPalRSVP
Please email amanda@amandamccormick.love or text 540.845.6617 if you have any questions or plan to attend.
Virtual information will be shared once RSVP and payment are received.
5 & 10 Class Cards Available!
5 class card | $90
10 class card | $170
About Amanda (your teacher & guide)
Amanda spent most of her life as a professional dancer, having performed at the Kennedy Center with Debbie Allen at 11 and 12 years old, with the Moscow Ballet at 13 years old, as a Rockette at Radio City Music Hall for 9 years, around the world in Italy, Spain, Vienna, Moscow, and more. (Ask her about my dance career if you're interested in the full spectrum of her experience!)
Due to a need to combat mental and emotional health issues and a desire to maintain the longevity of body, mind, and spirit, Amanda began the deep dive of self-exploration and watched as her life slowly expanded and evolved from quantitative aesthetic to qualitative being-ness thanks to intense healing as well as studies and certifications in personal training (ACSM), holistic and intuitive health coaching (IIN and Stephanie Lyra Lin), yoga (300hr RYT), Reiki and Shamanic Reiki, meditation, sound therapy, and more.
Amanda believes in constant growth and evolution and is grateful for how each of these brought her a little closer to wholeness on her own healing journey of love and acceptance. What she learned gave her a blueprint for how she shows up in, and relates to, this world, others, and herself. It reconnected her to the home and knowledge within where she felt a duty to share and guide others on this journey. Amanda's goal now is to inject love into everything she does to help light this planet up with purpose and soul by helping guide as many who are willing back to heart-centered purpose and our truest divine nature where we are all students, teachers, and healers, unified in love.
Amanda and her partner, Shaun, now reside in Hortonville. Being in nature full time has been one of the most positively impactful healing experiences of her life. They are so happy to be here and looking forward to getting to know more of the community, sharing their passions and gifts, and walking the road of life hand in hand, heart to heart.
Add to Calendar
07/16/22 02:00PM
03:15PM
America/Los_Angeles
Nature Yoga Flow (In Person & Online)
The Sanctuary
info@thesanctuaryheal.com
FREQ=WEEKLY;COUNT=105;BYDAY=SA