Cushetunk Kids: Summer Gardening at Fort Delaware
Jun 30 @ 09:00AM - 12:00PM
$30 per session, per child. Discounts available for multiple children and 4- or 8- week passes.
Recurring Event
(See all)
Recurring weekly on Thursday
From: 09:00 AM to 12:00 PM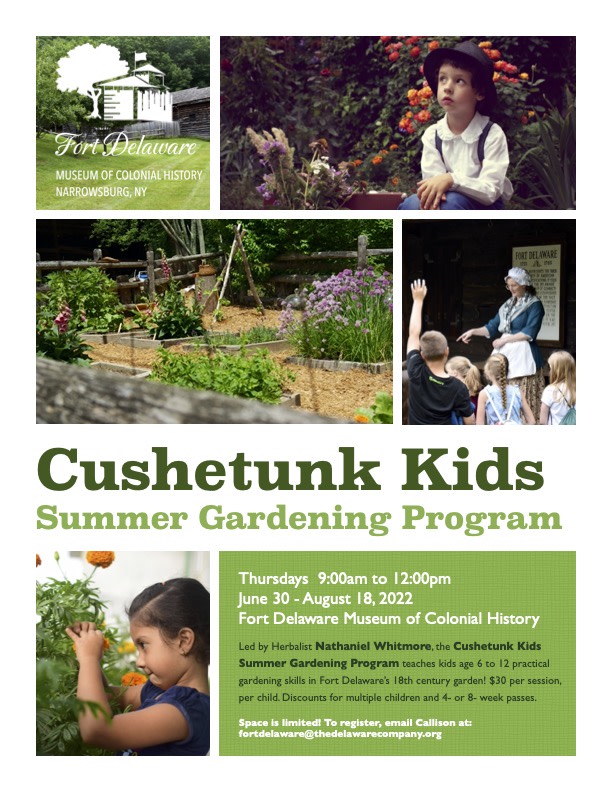 The Delaware Company presents the Cushetunk Kids Summer Gardening Program at Fort Delaware, an 8-week program led by Herbalist Nathaniel Whitmore. Kids age 6 to 12 will learn practical gardening skills in Fort Delaware's 18th century garden! The program will run every Thursday, 9am to 12pm from June 30 to August 18, 2022 as part of Fort Delaware's "Cushetunk Kids" youth activities. Every week will involve learning new and different skills related to gardening, herbalism, natural dyeing, and more! Drop-ins welcome, but registration is required. Contact Callison Stratton at fortdelaware@thedelawarecompany.org to register. 
Add to Calendar
06/30/22 09:00AM
08/18/22 12:00PM
America/Los_Angeles
Cushetunk Kids: Summer Gardening at Fort Delaware
Fort Delaware Museum of Colonial History
The Delaware Company
fortdelaware@thedelawarecompany.org
FREQ=WEEKLY;COUNT=2;BYDAY=TH